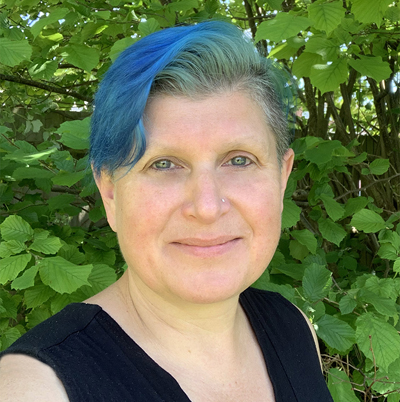 JAD ORLINSKA
Jad is the co-founder and host of the Spiritual Junkies' Community Centre.
You can find collections of scripts from Jad's EAM sessions in Kindle and in print in the Spiritual Junkies' Energy Transforming Recipe Book series, available in Kindle and in print from our shop.
She has been on a personal and spiritual development journey pretty much all of her life. In early days she used drink and drugs to numb the feeling of being lost and disconnected from the world.
In 1990 she started to be involved with an organic smallholding. She became an early pioneer of organic veg box schemes and established this alongside a wholefood coop. In between looking after three children, menial jobs to support the family, weeding, collecting eggs, milking goats, and picking and packing produce there wasn't much time to consider her place in the world.
Approaching her 40th birthday a midlife crisis took the shape of getting a full motorbike license along with a motorbike and a degree.
Jad graduated with a First-Class Honours Degree and during her career as a Web Developer built a web app for the University of Greenwich, which was awarded runner-up in the Guardian University Awards, Digital Innovation category. Despite this she still felt that she didn't fit in with the rest of the world.
2011 saw another major turning point in her life. Her relationship with her long-term partner broke down. In the same year, her eldest son left home to go travelling. Underestimating the impact of these two losses, Jad's physical and mental health started to suffer.
Jad turned to holistic therapies and meditation. She discovered and trained in EFT. Her third eye was physically and painfully opened during a shamanic reiki session and her spiritual unfoldment started. Despite all evidence to the contrary, Jad decided that she wasn't a medium and spent many years doubting herself.
2016 saw another major turning point. Approaching her 50th birthday Jad focused in earnest on her health and fitness levels. In November Jad was introduced to The Energy Alignment Method - EAM® and Yvette Taylor but at the time didn't realise how important this was to be.
In March 2017, Jad officially started her EAM journey and trained as a mentor in Morocco in November of that year.
Jad has trained under and been inspired by many people including David Hawkins, Dolores Cannon, Edgar Cayce, Matt Kahn, Joe Dispenza, Bruce Lipton, Michael Singer, Linda Howe, many of the Hay House Publishing authors including Louise Hay and of course Yvette Taylor and Lisa Hammond.
Jad now uses EAM and her gifts as a psychic medium to help people find the root cause of issues that they can't discover on their own. She helps people to come out of the spiritual closet, accept their gifts and bring some peace and calm, love, joy and freedom into their lives and to the world.