Definitions from Oxford Languages
spiritual
adjective
relating to or affecting the human spirit or soul as opposed to material or physical things.
Definitions from Oxford Languages
junkies
noun
a person with a compulsive habit or obsessive dependency on something.
spiritual junkies conscious creators
Discover How to Harness the Law of Attraction So You Can Finally Design Your Dream Reality and Experience the Magic of Manifesting Your Desires
Welcome to Spiritual Junkies Conscious Creators where we help you raise your vibration and support your spiritual growth and conscious living.
If you're ready to design your dream reality and create a life you're passionate about, then look no further.
Join the Conscious Creators Group and together we'll dive into the world of miracles and positive action.
It may require some effort, but trust us, it'll be fun!
Designing Your Dream Reality
Ignite Your Inner Manifestation Flame and Watch Your Desires Materialize
Like the Law of Gravity, the Law of Attraction is working all the time whether we are aware of it or not.
We can't switch it on or off and everything in our lives is showing up as a vibrational match to the thoughts, beliefs and emotions in our field – we are attracting it all – everything we perceive as good or bad.
Personally, I don't believe that we are here to suffer – I believe that we are here to create our life experience but somewhere along the way we forgot or maybe it got hijacked 🤔.
Regardless of how and why we are now in a time of super fast manifesting and in order to change what's showing up we have to change our vibration to match our desires – it's always an inside job.
So, the question is: Are you intentionally manifesting or simply letting things happen by default? Have you given up on having something you've longed to bring into reality, or does it seem like it's absence is an obstacle in your path to a fulfilling life?
The truth is we always attract what matches our vibrational state. If something isn't materializing, its not because you don't deserve it but more likely that you are not in alignment with it vibrationally.
Within the Spiritual Junkies Conscious Creators group, our focus is on raising your vibration and frequency to align with your desired life creation. While the solution is simple, it's not always easy. I won't lie – you'll have to put in the work. But, you'll have my support and the group's collective energy to make it easier.
Are you ready to start playing?
There are two membership options to choose from
You can upgrade, downgrade or cancel at any time
Live sessions are online via Zoom every Tuesday at 6.30pm to 7.30pm UK time
All sessions are recorded and the replays are available in the private member's area of this website
CONSCIOUS CREATORS
Live meetings on Zoom every Tuesday at 6.30pm to 7.30 pm UK time.

Replays of the weekly meetings

Private Facebook Group

A printed journal to record and track your progress

Unlimited access to the Energy Transforming Scripts Library – done for you release statements and affirmations to use as they are or with The Energy Alignment Method – EAM™ or Emotional Freedom Technique (EFT, Tapping)
Unlimited access to the Spiritual Junkies Replay Library – including meditations, Energy Clearing Sessions, Quantum Healing and Qi Gong
VIP MEMBERSHIP
All Conscious Creator benefits plus:

45 minute private one-to-one session each month where we can work through anything that is coming up for you in more depth
Spiritual Junkies' Energy Transforming Recipe Books
Release statements and affirmations to help raise your frequency and vibration
Using self-help techniques can sometimes be challenging because you might not know where to begin, what questions to ask, or which issue to address first.
Our collection of powerful scripts, initially designed for Spiritual Junkies, serves as a great starting point and can even inspire deeper work. These scripts can be used on their own or in conjunction with The Energy Alignment Method – EAM®, Emotional Freedom Technique - EFT, tapping, or any other energy healing method you prefer.
With these scripts, you won't have to worry about finding the perfect words. They offer a structured process to follow. You can return to them whenever you need, helping you shift your energy and transform your life.
These scripts have the potential to not only heal your own wounds but also contribute to healing your family, ancestors, and humanity as a whole. These potent statements work to release negativity from our world, allowing us to elevate our energy and embrace a higher level of consciousness known as 5D.
ENERGY TRANSFORMING RECIPES VOL 1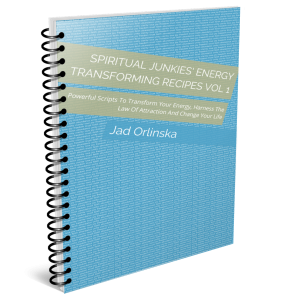 ENERGY TRANSFORMING RECIPES VOL 2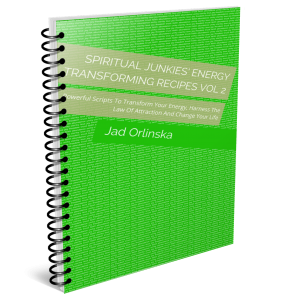 Copyright © 2020 - 2023 Jad Orlinska
All rights reserved. No portion of The Spiritual Junkies' Recipe Books or the Spiritual Junkies' website may be reproduced in any form without permission from the author or publisher, except as permitted by U.K. copyright law. For permissions contact: jad@spiritualjunkies.org
Any questions? Let's talk…